Game warning reflector - red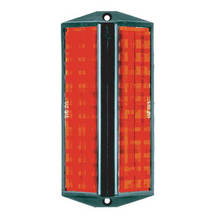 Protect people and wildlife death before the traffic!
Visual warning device for attachment to road delineators. Plastic housing
(86 x 182 mm) with two symmetrical recessed reflective plates (40 x 154mm). The discs are made of delicate mirror facets and provided with a weather-and temperature-resistant protective coating.
You steer the car from hitting the spotlight with high light output over so that the game shrinks.

Practical experience in many districts confirm that nighttime traffic accidents with game after installation of the GFT-WEGU wildlife warning reflectors have gone far back.
Article Number 790 301